Youth Armored Combat
---
Youth Armoured Combat (YAC) is a program for SCA kids from ages 6 to 17 to engage in a kid-friendly version of adult Armoured Combat (heavy).
Young people participating in Youth Armoured Combat not only get the fun of fighting each other with modified weapons, they also learn physical coordination, self-defense, self-control, and less tangible skills like teamwork, chivalry, and service.

We are happy to come to your school, youth group or scout troop for a hands on demonstration of Youth Armoured Combat.
How do you start?
---
To begin, you need to contact the local youth marshal who runs practices! They will be able to let you know where and when practices are scheduled, and make sure that appropriate equipment is available for you.
Once you have given Youth Armoured Combat a trial, and decided it is something you wish to continue and compete in, the next step is getting authorised. Authorisation is simply a short test to make sure you understand the rules, and are a safe and confident combatant, and have the appropriate armour to keep you safe.
We divide YAC into three Divisions, each of which has their own rules of engagement. This is done by age, and older fighters must fight to the division of their younger opponent, if not fighting someone of the same age.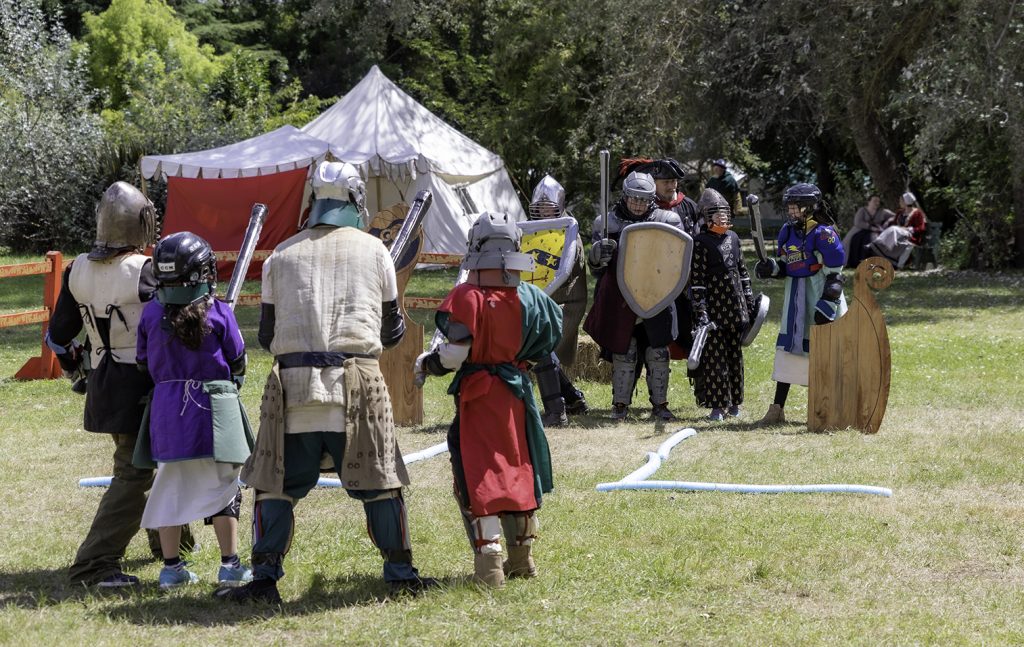 Armour and Weapons
---
Safety is extremely important in all SCA combat. The rules on armour and weapons are very strict and fighters will not be able to fight unless they have the appropriate armour for their division and safe weapons.
Armour
Some components of YAC armour can be purchased over-the-counter in the form of skater pads and hockey helmets, but please talk with a YAC marshal, and read the rules before outlaying any money, to check that the products are compliant for your division. The Barony has some loaner equipment available to get you started.
Other items such as padded gambesons, helmets, shields and body armour can be made by you (with basic crafting/sewing skills), or may be commissioned by other creative people. Please talk with a YAC marshal before proceeding down this route, as rules are very strict for the safety of the combatant and vary with each division
Weapons
Weapons have very strict rules surrounding materials and construction as well. This is for the safety of all combatants. You are expected to provide your own weapons once you have authorised, although the Barony has loaner weapons available until you can make your own.
Important things to note for Parents:
You must have seen Youth Combat BEFORE your child participates so that you understand the activity they are about to take part in, and make the decision as to whether it is an appropriate activity for your child.

Youth Armoured Combat is not a child minding service. A parent or guardian must be available on site and preferably actively watching their child as they fight. No child is required to compete or train against their will, and they are not to be coerced into doing so.