Canterbury Faire
The biggest event on our calendar each year, Canterbury Faire is a week-long camping event held in late January, in North Canterbury (about ten minutes outside Amberley). This event attracts SCAdians from up and down the Crescent Isles, as well as from Mainland Lochac (Australia), and is an excellent opportunity to meet new people and reconnect with old friends. There is always a broad array of all sorts of activities available to participate in, as well as plenty of spots to pause and take in all that's happening!
Some mainstay highlights of the event are:
The Feast – one evening of Faire is set aside for a lavish, multi-course feast in a set style of authentic medieval cuisine for attendees to enjoy. A repast is also held on the same night for those that are interested in a smaller, more casual meal.
Royal Court – with so many of the populace gathered, Royal Court is an excellent opportunity for the Royals (or, if absent, those acting in their stead) to pass on important information to the populace, as well as take the time to recognise the work and achievement of those who have earned all manner of awards.
Half Circle Theatre – an evening of plays, poems, song, and dance performed by the populace, for the populace.
The Ball – a formal evening of socialising and dancing a variety of medieval dances (don't worry if you don't know any, dance classes to learn the basics are held in the days before the ball!), and is an excellent opportunity to show off your fanciest garb!
Classes – all kinds of classes are held throughout the event, from dance classes, to sewing 101, to war tactics, and anything in between.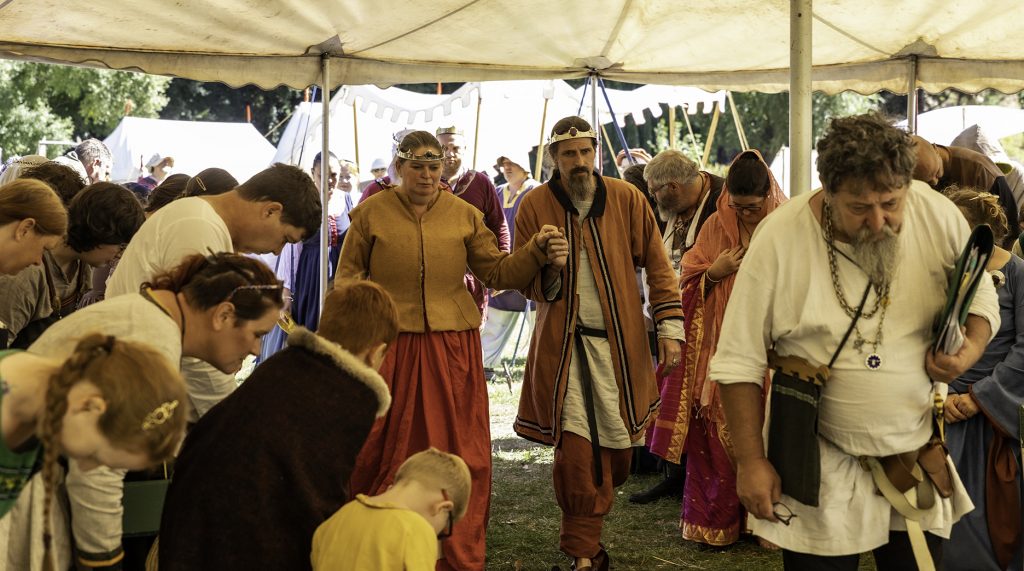 The Mangy Mongol – also known simply as "The Mong", this is where you can find Turkish-style coffee, as well as other treats (selection changes each year), and an excellent social space to play some cards, watch the tourney field, or just have a chat.
Tourneys Galore! – Throughout the week there are numerous tourneys across all disciplines for our various fighters and archers to test their skills in and entertain the populace with. Particular crowd favourites are: the Fighter Auction Tourney, where populace members bid on fighters to fight in their name, and get their pick of donated prizes should their fighter be victorious; the Baronesses Rapier Tournament, where the tournament is fought for the entertainment of the Baroness of Southron Gaard and all other Baronesses present, and often results in rules and shenanigans beyond the norm coming into play; and Thorfyrd's arrow, an archery tournament fought in a double-elimination duel scenario.
Faire is held on an excellently appointed site, with comfortable and accessible bunkrooms, hot showers, shady tenting sites, real toilets, and there is also an optional meal plan that is run for those that wish for it.
Canterbury Faire is, in a nutshell, a week long escape from modern life to a world filled with medieval pastimes from dawn until dusk, and then some!
Baronial Anniversary
On the 23rd of March, 1996, Southron Gaard was raised from a Shire to a Barony, and each year we make sure to celebrate this anniversary! A number of tourneys are held alongside an Arts and Sciences competition to select the Baronial Champions for the coming year, and there is also often a feast held to both celebrate the Barony, as well as it's newfound Champions. There may also be a display of Baronial Relics and mementoes to showcase the rich history of our Barony.
Midwinter (Yule)
Yule is our traditional mid-winter event, usually consisting of a feast in the evening after some afternoon activities such as a tourney or a games day. This is a cozy, relaxed event where we get to wear our warm garb layers and relax with friends while celebrating the turning of the seasons, and look ahead to the coming warm months.
Golden Flight
Another mainstay on the camping calendar, Golden Flight is held over the long Canterbury Anniversary weekend (Show Weekend) in November. This event has a focus on archery with a wide variety of shoot styles planned to enjoy, alongside a broad range of classes, other martial activities, excellent food, and relaxed social time. The venue for this event isn't necessarily the same year after year, but while the venue may change, we always endeavour to ensure there is both camping and bunking options available, alongside all other comfortable amenities.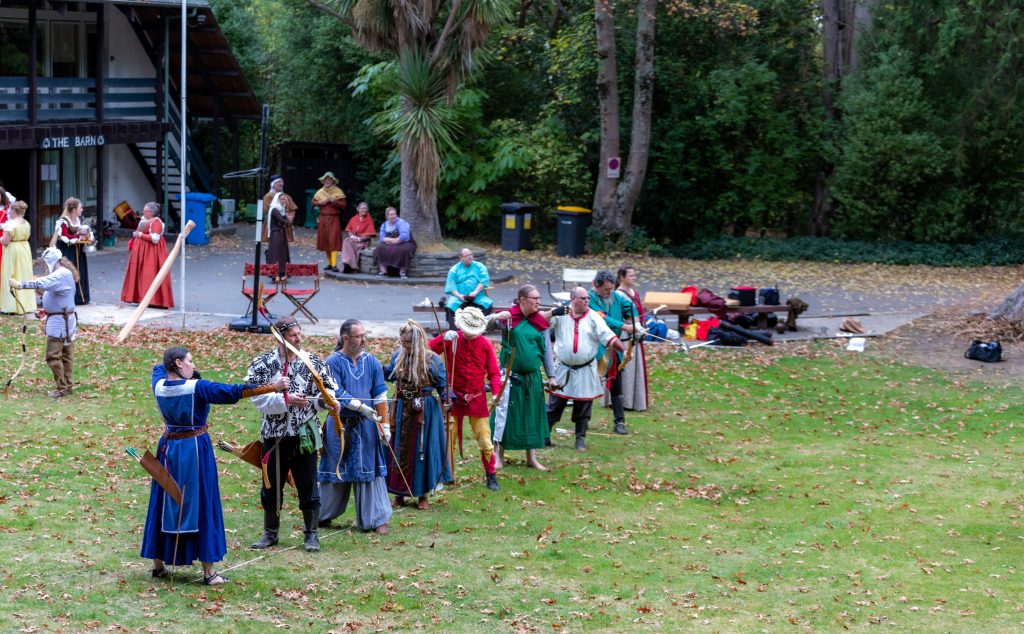 Other types of Events
---
Collegiums
Focused on Arts & Sciences, a Collegium is an event type that features classes, workshops, lectures and seminars to teach others about various medieval Arts & Sciences topics.
Feasts
A formal type of event with a seated meal, usually with multiple courses. Feasts often have a theme (e.g. Roman, 14th Century French), and the venue is often decorated to match.
Revels
A less formal type of event, often including food and some form of entertainment e.g. dancing or bardic performances.
Fiery Knights
A biannual event hosted in Swannanoa, Canterbury that encourages all things fire-related! Activities include a fire tourney, flaming trebuchet, fire arrows, and a spit-roast meal.